I've missed you all! Hope you all had a wonderful weekend (yes, I am aware that it is now Tuesday)...while I frantically catch up, here are some things I've been up to, according to my Instagram.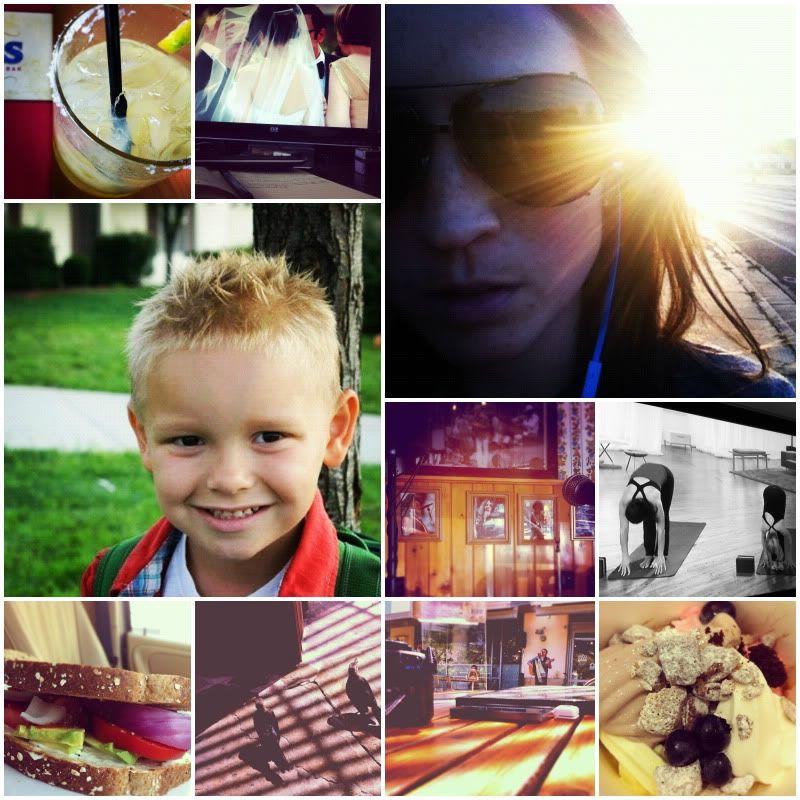 Above you see:
-Happy Hour with
this pretty lady
.
-Weeping over a wedding workshop on
CreativeLive
.
-Perfect sunset for pictures.
-Our oldest nephew started Kindergarten on Friday and it made me all emotional, I'm going to be a mess when Dave and I have kids!
-Preparing for a show at
Potbelly's
.
-Yoga always makes me feel like a new woman.
-A sandwhich for the road.
-Two birds fighting like an old married couple.
-My view: camera, iphone with the square, albums, and Dave...all at Whole Foods Headquarters.
-Ending an indulgent weekend with a bang. Worth it.
Above you see:
-Wedding time! And I am SMITTEN with this necklace c/o
Becoming Jewelry
! It has a circle with a D, one with an M, and a heart. ♥
-Mr. and Mrs. Scott and Katy Timken!
-Tea and chats with my Mama.
-Later in the evening we moved on from tea to wine. Perfect day.
---
The winner of the Blogger Design Package is Lesli Sieminski. Congrats! Email me!
And I never heard from the Teilla necklace winner, so the new winner is Courtney Anne! Congrats and make sure to email me!