Let's face it, the beginning of this week was just Dave and I trying to make it until we could leave for the lake on Thursday night. We could not have been more ready for this trip! Here's how it all went down...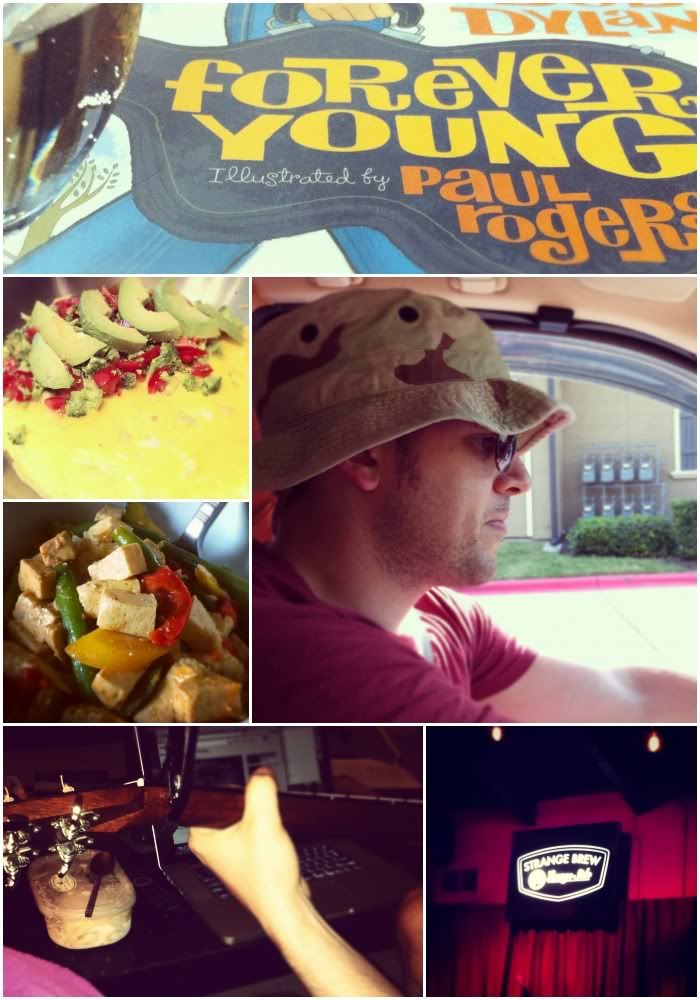 Above you see...
-A favorite book my Mom bought Dave and I.
-The beautiful omelette that was half spilled on the floor.
-Tofu and veggie stir fry.
-Dave's "special" hat.
-Nights with my man.
-Taking in some music and coffee at Strange Brew, where
Dave
will be playing on Friday!
Above you see...
-My usual road trip position...feet on the dash.
-Restaurant style ahi tuna and rice.
-We drove so long on Thursday night we saw the sun come up on Friday morning.
-Made some of my
energy balls
for the trip, they were the perfect snack!
-Yum in a bowl...whole wheat penne, fresh broccoli, olive oil, garlic salt, and crushed red pepper.
Above you see...
-Heaven.
-Practicing our *4th of July Cookies*, recipe coming this week!
-An omelette to fuel us for a long day in the heat.
-Our breakfast view the other morning.
-Thanks to my little brother for leaving these sweet shades at the lake, I don't know if he'll get them back when he comes tomorrow...
If you'd like to follow along with more trip pictures, make sure to follow me on instagram
@mallorieowens
and Dave @daveowensmusic!