I've been craving chocolate lately something fierce lately and the leftover Easter candy just hasn't been cutting it. I really
needed
wanted something gooey. And no, I'm
not
pregnant, because I know at least one person will ask...I just like chocolate, mmmkay?
Enter these amazing brownies. They definitely got the job done. But full disclaimer, in case anyone was wondering, these aren't my usual healthy recipe. While I have modified it in any way that I can, they're still brownies...just thought I'd toss that out there...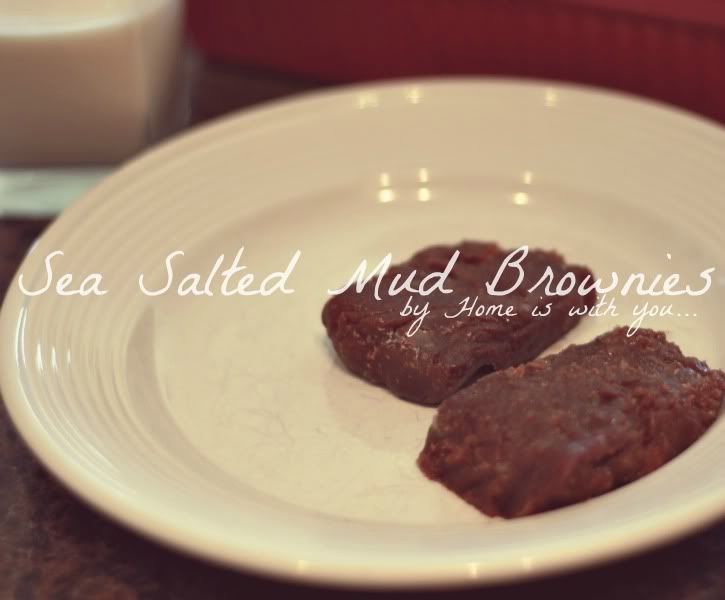 The original recipe is
here
, and here's how I did it...
1 1/2 sticks unsalted butter
1/4 c chocolate chips (I used Ghirardelli)
1/4 c plus 2 Tbsp unsweetened cocoa powder
2 c cane sugar
1 1/2 bananas (melted from freezer or whipped)
1 c whole wheat flour
1 tsp sea salt
1/4 tsp vanilla
Preheat oven to 350. Put the chocolate and butter in a bowl and melt in the microwave (30 seconds, stir, 30 more seconds). Whip together.
Add in cocoa powder and sugar and stir well. Add the bananas and mix very well, mashing any banana clumps. Add in flour and mix well again.
Add in the vanilla and half of the sea salt and finish mixing everything together. Scoop out the mixture into a greased pan and smooth it out. Sprinkle the other half of your sea salt on top.
Bake for about 35 minutes and leave out to cool. Then place the brownies in the fridge until they are completely set.
Enjoy! I called these "Sea Salted Mud Brownies" because they really are thick as mud. So make these when you want some extra fudgey brownies with a sea salt kick.