Yesterday in
Part 1
I told you guys all about Dave's show during South by Southwest, but SXSW was a week long experience and we tried our best to make to most of it and do some footwork for the music. We had meetings, hung up posters, handed out albums, and listened to bands. It was such a fun yet exhausting week!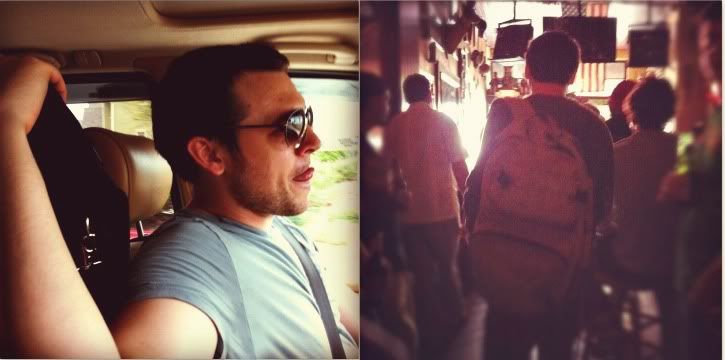 One of Dave's buddies from Minneapolis,
David LeDuc
, was in town to play some shows so we met up with him one afternoon to check out some shows and talk for a bit. They had a great discussion at dinner that night and David had some great reflections on their talk, you can watch them
here
and
here
.
I love the questions at the end of
Part 1
, I think that's something we should all ask ourselves. So, what's something that you need to let go of?
And I just
love
this last picture. I was cracking up when I dropped Dave off on 6th street the morning of his show. I felt like I was leaving him at camp for the week or something. It was even more comical considering the fact that 6th street was
flooded
with people that week.
As I drove back to our place I kept imagining him trying to weave his way through all the people with all of that stuff. It's always an adventure with us...