Hey everyone, I asked Dave to share his stuffed mushroom recipe with you all today so I'll let him take it from here...these are AMAZING so I hope you all enjoy them!
About a month ago, Mal and I were invited to a little get together here in Austin and we were asked to bring an appetizer. Mal, in all fairness, is a killer baker and has several dishes that she's mastered. I, on the other hand, was raised in a family without recipes – we all cook by instinct. If my great-grandmother was still with us (bless her soul) and you asked her how much salt to add to any of her amazing dishes, she'd respond with something like, "A pinch of this…" or "This much (and proceed to pour a little here and there)." My grandmother and dad are like that as well…their homemade biscuits are to die for and I MUST pay closer attention next time I'm home so that tradition is continued.
Ok, ok, enough jabbering. That night Mal was planning to make
her famous guacamole
(seriously, everyone that's had it has responded with rave reviews – and a bowl licked clean) but we were told at the last minute that someone else was bringing theirs. So, I decided to take the reins and throw something together. I'd wanted to create some vegetarian style stuffed mushrooms for a long time…and we had a few extra veggie sausages in the fridge to push me into it.
Again, keep in mind that I do everything by taste and always start with a minimal amount of everything and add more as I see fit. Mal and I use little salt, etc, so you just add as you as you like – everyone has their own way of enjoying food and that's one of the beautiful, artistic, aspects of cooking! It's always easier to add than take away.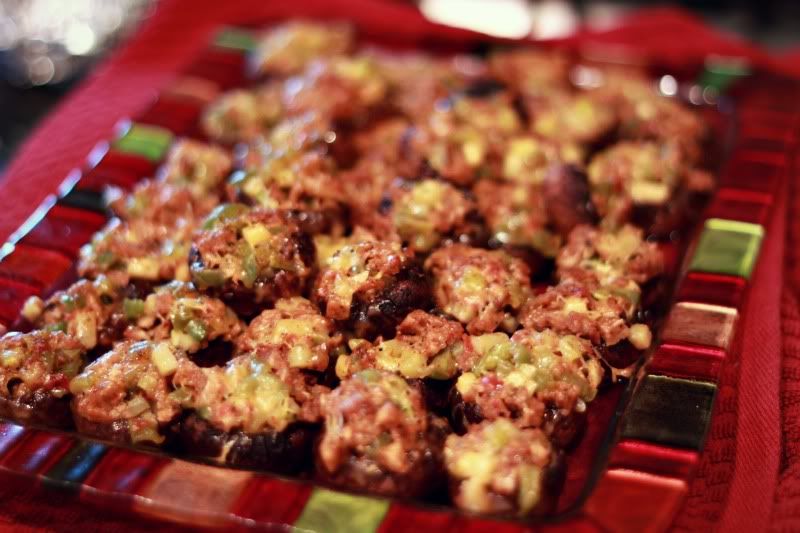 I started grabbing anything that looked good, starting with two packages of fresh baby-bella mushrooms (8 oz. x 2), two of the veggie sausages, one whole cucumber, one whole zucchini, one whole green bell pepper (although you can use any color you like), a block of cheddar cheese, cayenne pepper, and some chili powder.
Once I had all of the ingredients in front of me, I started chopping them up – not too fine, but small enough to where they would mix together well and fill the caps of the mushrooms. Mal's grandparents got us this great
manual chopper that cuts into various size squares, etc
, so I used that. You can also go old-school and chop them by hand – I do this when I don't feel like cleaning the chopper afterwards! Mal took the stems out of the mushrooms while I chopped everything else up, mixing them in a good-sized mixing bowl. From there, I started "testing" the mix, adding a little chili powder and cayenne pepper until it was about a "medium" on the hot scale. I didn't want to overdue it for the other guests. Once I got that mixture up to par, I started scooping it into the pitted mushrooms.
It's important to note that I stuffed the mushrooms on the oiled (spray or light cooking oil of your choice, we prefer olive oil) baking sheet – I've seen people do it on other surfaces, only to find the filling falling out all over the pan when moved! I'm all about efficiency and minimal cleaning afterwards! Once they were stuffed, I shredded the cheese over them (pre-shredded cheese obviously works just as well), popped them into the oven at 400 degrees, and watched them closely...it took about 25 mins or so. Once the cheese is melted and browning around the edges, you can take them out. Some people enjoy it a little crispier on top and leave them in a few extra mins.
Once they're done, they cool pretty quickly and are also much juicier than when you put them in so be prepared to put some paper towels under them if you'll be transferring them over to a serving tray! Otherwise, they'll get a little soggy sitting in the excess water.
While the mushrooms were cooking, I noticed that I had a bowl full of stems and some leftover veggies from the mix…which got me thinking. So, I grabbed some sour cream and the chipotle sauce (any hot sauce will do) and made a dip. I chopped up the stems, mixed them with the other veggies, and threw in the sour cream and hot sauce until it tasted good. We took some tortilla chips to dip and it was a smash!
What's funny about these impromptu appetizers is that when we arrived, I noticed the guys (none of whom are vegetarians) digging into the mushrooms. After awhile, one asked what was in them and when I proceeded to let them know they were all veggie, some of them quit eating them – goofy, yeah? I'm not a vegetarian, but I also respect my wife's decision to abstain from meat while attempting to find alternative ways to keep my cravings at bay. :D
I hope you all enjoy the food and share it with friends and family – there are not enough gatherings these days!
As a quick recap to my extended "recipes":
Veggie Stuffed Mushrooms
2 – 8 oz. packages of mushrooms (just about any type will do)
1 – Large cucumber
1 – Large zucchini
1 – Bell pepper
2 – Vegetarian sausages, we used the Smart Sausages "Italian Style" (meat sausage can be used as well)
Cayenne Pepper to taste
Chili powder to taste
Pre-heat oven to 400 degrees while popping out the stems of the mushrooms, dicing the veggies and sausages, and mixing in the seasoning to taste. Coat the baking sheet with a spray or a little olive oil, stuffing the mushrooms and placing them directly on the sheet – I put them fairly close to one another so there isn't any cheese wasted on the sheet itself. Shred (or use pre-shredded) cheese over each mushroom to your liking and bake for about 25 mins, watching for the cheese to melt and begin browning around the edges.
Once they're done, either place a few paper towels under them on a serving tray (you can always pat them down a little if that look doesn't jive with you) or serve directly from the sheet. Enjoy!
Hold Me Up Mushroom Dip
Mix the discarded mushroom stems and leftover veggie stuffing into a serving bowl, add sour cream, hot sauce, chili powder, and/or cayenne pepper to taste…enjoy!
*Get it? "Hold me up" because we're using the stems that hold up the mushroom.
Much love,
Dave