If you haven't heard, the good folks over at
Misikko
are doing an amazing giveaway. Three lucky winners will receive $350 worth of their fabulous products. Yes please!
My hair can be hard to manage sometimes. Ok, most of the time. I've already found myself resorting to a side braid every day thanks to the Texas heat. That said, I'm always looking for a new product or tool that can help me with my frizzy hair...so if I was able to pick out up to $350 worth of products at
Misikko
, this is what I would choose...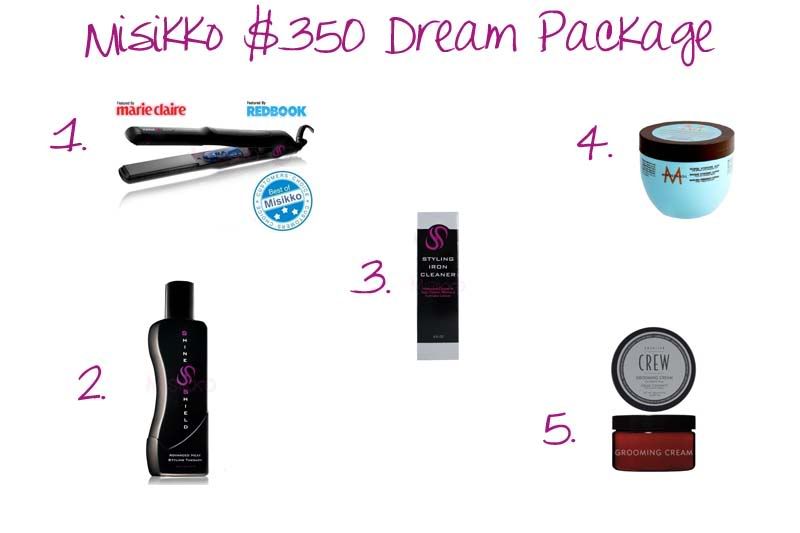 1. Anyone with curly/frizzy hair knows that a good flat iron is key. I've heard Misikko's flat irons are fabulous and I'd love to see what they could do for my hair!
2. A product that removes build up
and
leaves my hair shiny sounds pretty great to me. Add in the fact that it's natural and supposedly improves your hair quality over time and it sounds like just what I need!
3. I don't know about you, but I've never cleaned my flat iron...and now I'm a little embarrassed. Hopefully Misikko won't let me stay a dirty flat iron-er for too much longer.
4. This Moroccan oil sounds like the therapy my hair is begging for! My hair tends to be dry on its own, but the heat has sucked any remaining moisture from it. This rich cream would work wonders on my dehydrated hair.
5. I couldn't leave
Dave
out of the dream package fun! Crew fiber is his favorite hair product and he's all out. This stuff lets him style without leaving his hair shiny and looking over styled.
My grand total came to $341.95. For those interested here's how you enter...good luck!